At DATAABSOLUTE, we offer offshore development centers for your project needs. Our offshore development center is a solution that enables you to create an operation team of experts in an offshore location. Ur center enables businesses to take advantage of different time zones, talent, and would otherwise be unavailable, thus ensuring diversity. Best suited for medium to large scale businesses looking at taking advantage of remote/ offshore talent. The Offshore Development services enables businesses to create an operational team of experts in remote locations to take advantage of different time zones, talent and infrastructure costs. It also helps businesses to tap into a talent pool that would otherwise be unavailable, thus ensuring diversity.
What is the Offshore Development Team
The offshore software development team is the procedure of utilizing the services of a team located in a remote location to develop software for use in the client's home country.
The offshore software development trend is spreading very quickly. As per recent market studies, around more than 85% of the largest global companies are opting for offshore software development services because of the huge benefits they provide.
Offshore software development becoming more in demand by the software development companies, where a project is executed efficiently by saving on huge costs on project development.
By keeping an in-house offshore software development facility ready, one can easily outsource major development tasks for better functionality to an expert team and focus on other essential business tasks.
How the Offshore Development Team process work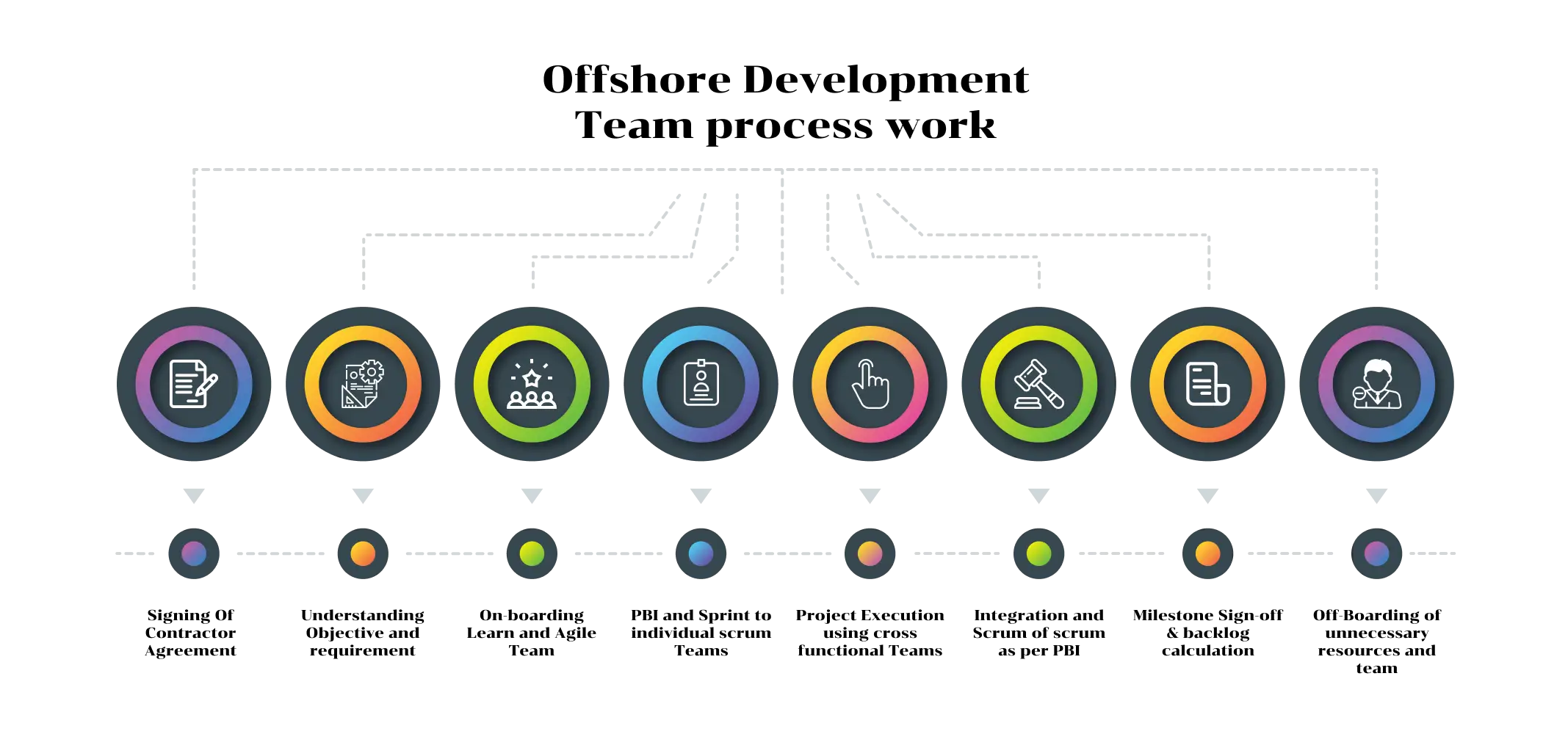 How organization gets the benefits of the Offshore Development Team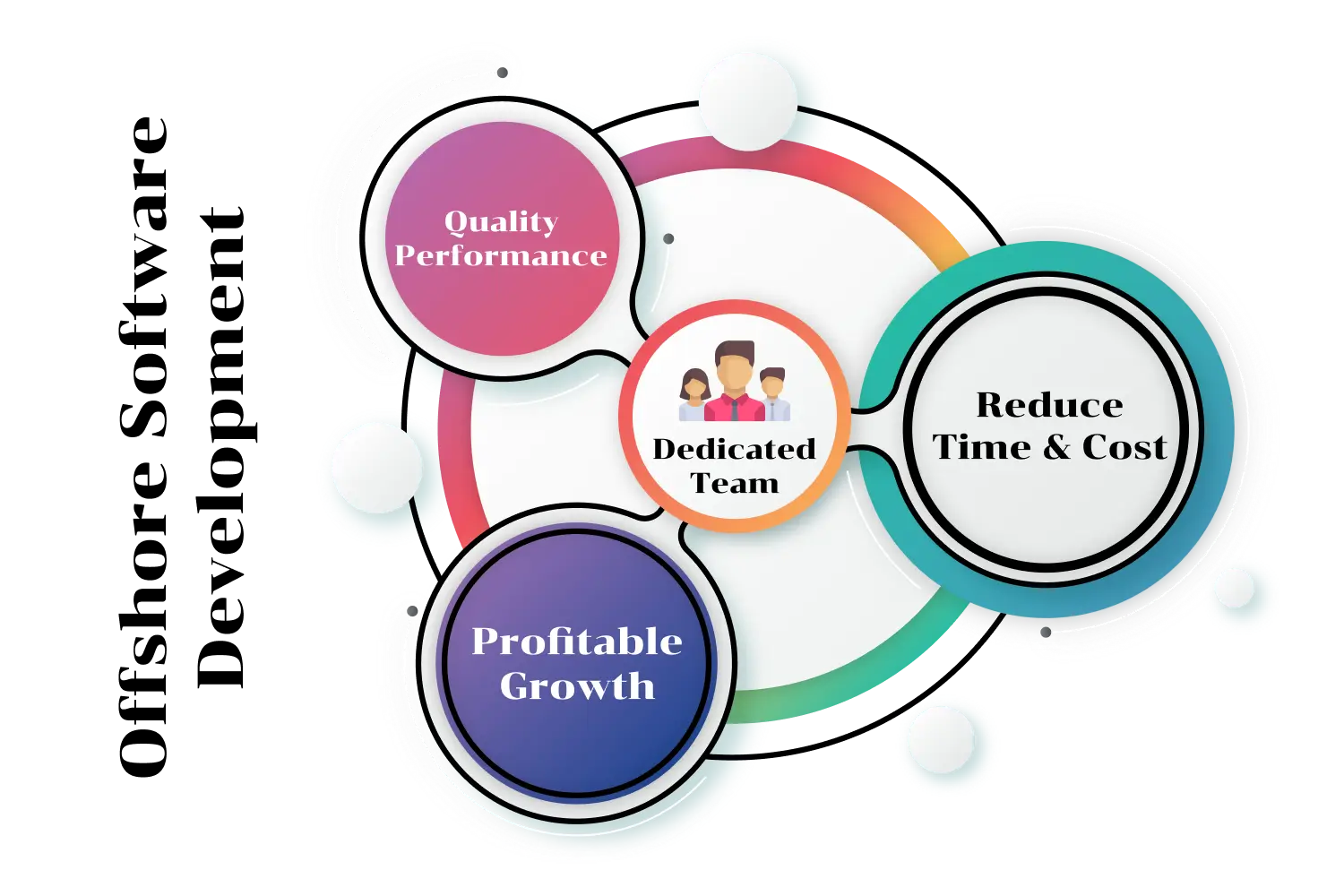 The decision to hire an offshore development partner is not easy. But, considering the benefits it offers, the offshoring development team is an attractive business proposition:
1. Lower cost:

It's costly to maintain an in-house IT team that has expertise in the latest technologies. By offshoring your software development, you don't have to invest in spending time recruiting, hiring, and training employees.

2. Access to a vast pool of talent:

With offshore development, you get access to a pool of talented software engineers with extensive experience developing software applications of international standards. Since the offshore partner has experience working on international custom software development projects for other clients, they understand the challenges involved.

3. Faster time-to-market:

With a dedicated team for each project, you can be sure to have qualified talent working to deliver quality development. Not only can you get work done faster, but you can also ensure your product reaches the market sooner. An external team can offer new insights to improve your business processes, letting you leverage innovation and creativity at each stage of the software lifecycle

4. More time to focus on core business activities:

Offshore development enables you to focus more on your core business strategy, instead of worrying about managing the complex and time-consuming process of software development. It lets your company focus on core practices without the additional stress of running and managing a software development department.

5. Rapid Scaling

With a flexible team, you're able to scale up or scale down operations to suit your needs. You need not worry about the IT environment or infrastructure. You can talk to the outsourcing company and scale your offshore team up or down as the project demands.
Our approach to offering the client the offshore development team
Pre-vetted and trained developers: Our developers are hand-picked and trained experts to deliver bespoke IT services.
No hidden costs: We bear recruitment expenses, and you pay only after developers start working on your projects.
On-demand scalability: We ensure greater flexibility in adding or dissolving developers as per project requirements change.
Access to emerging technologies: We have developed talent with expertise in next-gen technologies such as AI, Blockchain, Big Data, Cloud Computing, RPA, and more.
Varied engagement models: We have numerous cooperation models to choose from: fixed price, time, and dedicated teams.
Full support: We provide onboarding, payroll, and infrastructure to ensure no overhead for you and empower you to fully focus on core business activities.
DATAABSOLUTE IT consulting firm offer talented and dedicated resources for the clients as an extension to their development teams.