It's not a secret that it's difficult to hire the right experts in your team. We aim to provide on-demand access to a vast pool of subject matter experts for your innumerable IT project requirements and extend the in-house development team. This eliminates the administrative complications of the long-lasting hiring process, expedites the release of your digital product launch, and enables high-impact returns.
Our team augmentation services create sustainable digital solutions by eliminating the long lasting hiring process and expediting the launch of your products or services.
Hire the necessary skilled technical resources in your team with our IT Team Augmentation services to accelerate your business qualitatively and quantitatively. We help you strengthen your internal team capabilities at your convenience while reducing costs. DATAABSOLUTE ensures to build lasting relations with clients through effective communication, mutual benefits and an open forum for ensuring that our projects deliver quality outcomes for both clients and employees
What is IT Team Augmentation
IT Team Augmentation is a flexible outsourcing strategy that enables you to hire a flexible workforce that is easy to scale up or down based on workload and current opportunities. For example, if your company experiencing a seasonal spike in sales, or a sudden need to fill positions created by turnover, temporary contractors can help your company meet the demands of your business, without the expense of hiring full-time employees.
IT Team Augmentation allows you to temporarily extend your team based on analyzing the lack of specific skills on a specific project. Expanding the capacity of the team with specialized skills on a temporary basis allows your company to deliver projects.
How the IT Team Augmentation process work
A good first step is to determine what experience and talents your company requires to operate its business on a project. Furthermore, your company must decide how many people you require to complete the work you need to be done.
Once a company clarifies these needs, we at DATAABSOLUTE consulting will identify a skilled workforce to complement the business. We will immediately search our extensive databases for tech experts who can best fit your requirements. After you've completed the screening process, we'll schedule interviews with the prospective candidates who have been chosen. It may be a good idea to start employment with a trial period, or a test project to evaluate performance. If all goes well, you'll have professionals ready to finish the tasks at hand.
How organization gets the benefits of IT Team Augmentation services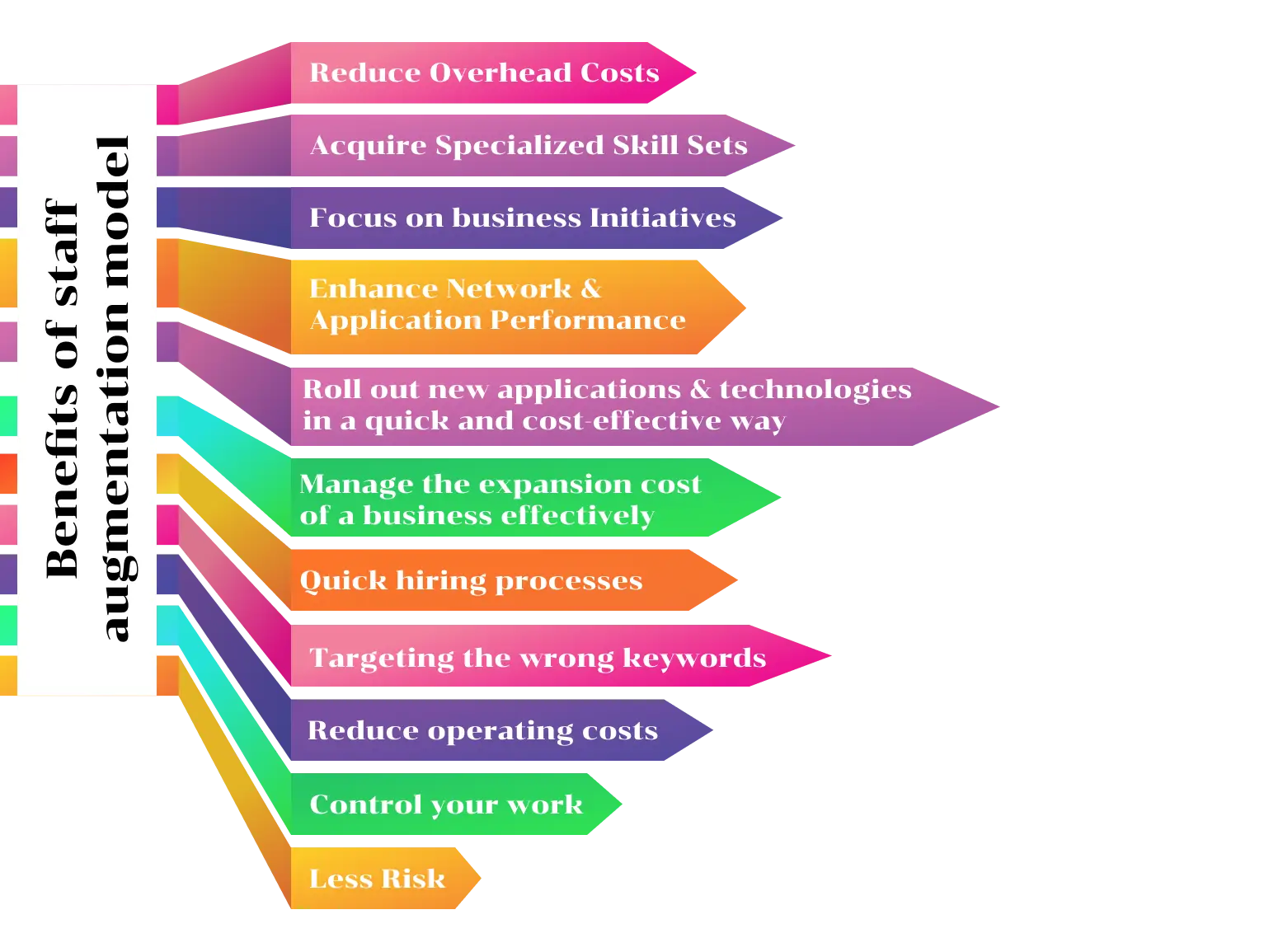 Scalability

IT Team Augmentation is a solution for your companies that experience regular shifts in demand. A team that is working on a project may run into certain issues that it feels are out of its depth and so can scale up to meet certain standards.

Highly – Skilled Short-Term

Let's just say that your current team of developers is outstanding. They deliver top-class projects. But sometimes, you may take on a project that needs very specific skills which your current team may not have. Expanding your capacity to broaden your skills will contribute to a successful project.

Cuts in operating cost

IT Team Augmentation provides your company with quality services on a short-term basis so that there are no long-term commitments to honor, and more specifically, an advantage to smaller businesses is that it reduces the necessity to sustain certain things like insurance and taxes.

Control over projects

One of the most significant drawbacks of complete outsourcing is the lack of easy access to individual employees. While IT Team Augmentation is a form of outsourcing, unlike traditional outsourcing, it allows your organizations and businesses to have control over their temporary employees and the work they produce. With staff augmentation, you can maintain the fidelity, confidentiality, and quality of your projects while still having real-time access to your employees, as they most likely will be working right alongside your full-time staff.

Save on time

When you hire short-term specialists there is no lengthy hiring process that is often associated with onboarding full-timers. Expanding capacity means the gap in your current team can be filled much quicker. The additional workers are already specialists in their field and are only onboarded for their specific skills.
Our approach to IT Team Augmentation services
DATAABSOLUTE has more than 10 years in IT consulting, we have an in-depth recruitment process for the best of the best talent, that ensures that your organization can recruit only the most eligible and talented employees, on-demand.
By choosing DATAABSOLUTE as your IT Team Augmentation vendor, you will:
Bring in a skilled workforce to your in-house team on a short-term or long-term basis
Get access to skilled and dedicated consultants with less costs
Lower operational costs like full-time salaries, office space, etc. to a great extent
Leave your worries about legal responsibility and paperwork including employee benefits, payrolls, and taxes.
Increase your team size and their output as lower development costs allow you to hire more skilled experts