Managed IT services can help you remove the challenging management tasks and stress associated with your IT infrastructure. These providers put in place contractual terms for their services, and pay you only when you need coverage or services. You don't have to worry about hiring, training, or managing staff, which frees up your time and resources. MSPs have flexible hours that allow them to perform system updates and maintenance during off-hours.Managed IT Services give you freedom over what technology you own and how you run your business. They provide enterprise-grade integrated services that minimize the time your office staff spends on troubleshooting, maintenance, and training. By using MSPs instead of staff or consultants, you can avoid having to find and hire new employees every time a system update is needed. You also save on recruitment expenses and reduce turnover by freeing up your team members to focus on revenue generating tasks. Managed IT service providers are not tied to any particular schedule - stay ahead of the curve with flexible business hours that work around your own.
What is Managed services
Managed Services handle IT services which result in a much higher standard compared to what most organizations can achieve in-house IT team. Top-notch providers also give clients ongoing maintenance and management of the existing infrastructure, plus service guarantees with end-user support.
Managed Service is designed to handle the daily operations of your specialized applications. A managed service can:
Provide more capability to the company's end-users

Allow in-house IT to focus on more strategic IT programs

Free the team to focus on their business's core competencies

Managed service is the practice of outsourcing on a proactive basis certain processes intended to improve your company's operations and reduce expenses.

Managed Services boost the stability and peace of mind of IT and business leaders. The task of delivering new business services to the enterprise while keeping costs controlled is a difficult task in today's business environment. A managed service is a good strategy to help IT organizations be highly resilient, and cost predictable, fiscal year to fiscal year.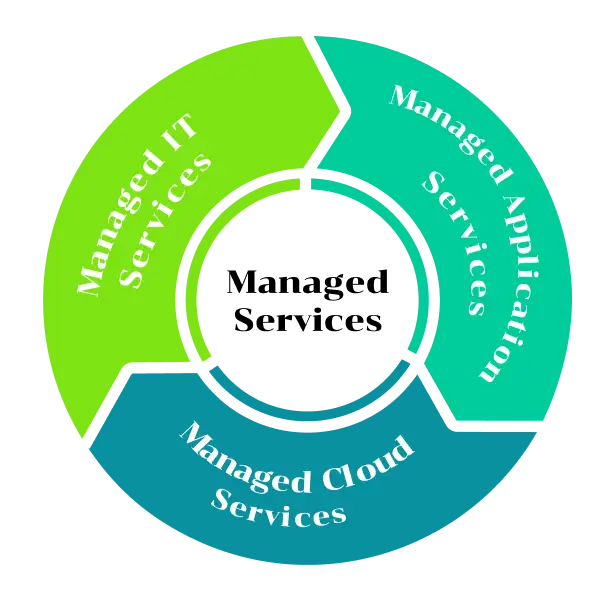 How the Managed Services process work
We understand that the right talent must have a perfect fusion of technology expertise, soft skills, and being a good fit for your company. Thus, we build new agile teams for each company based on their precise requirements and needs.
How organization gets the benefits of Managed Services
Managed services come with many real benefits
Helps discover and fix problems before they negatively affect businesses.
Helps businesses control and cut their overall operating expenses with the flat-fee billing model.
Manages and monitors 24x7, for the client(s), all devices, internet slowness/outage issues, your websites, etc, thereby giving your businesses an additional level of comfort and security.
One of the main benefits of managed services is that it offers you cost-effective access to enterprise-level support.
A major advantage is that it assures minimized downtime, for your businesses.
Helps customers focus more on the business and not on the technology.
Overall, ensures increased operational efficiency for the companies and peace of mind as well since they can rest assured that things are being monitored and issues would be detected before they cause any big loss.
Our approach to offering clients the Managed services
Effortless Onboarding

From screening experts as per your unique requirements, and security setup to continuous support, we at DATAABSOLUTE take care of all front-end tasks so that business owners along with their extended team and the in-house team can entirely focus on building game-changing products.

On-Demand Scaling

We ensure the greater flexibility to add more developers or dissolve the team members you no longer need. Scale up or down as your company's project requirements change, with no annoyance to stuck in a long, burdensome hiring process.

Retain Complete Control

We ensure no mediator between the client and the client's extended team. Share your requirements and goals directly with our team and address any concerns that may emerge along the way. we can also onboard a Project Manager to keep your extended and the in-house team on the same tab.

Compliance & Data Security

We go the extra mile to make sure that the client's extended team fully complies with your legal and social policies. Our experts take the utmost care to the security of your sensitive data to prevent data leaks.