Salesforce consulting is the process where Consultants analyze the business issues & goals, map with Salesforce solutions, and pave the path to business success in a strategic way. This allows businesses to evaluate the strength of Salesforce and how they can seamlessly interact with their customers, partners, and employees.
Salesforce is a cloud computing service company that specializes in customer relationship management (CRM). Salesforce's services allow businesses to use cloud technology to connect with customers, partners, and potential customers.
DATAABSOLUTE is a Salesforce Partner Company with certified resources and long years of experience in providing end-to-end salesforce consulting including strategy building, development, customization, implementation, and data integration.
Salesforce consulting services
Salesforce consulting services take care of the key business processes that are needed to succeed in the competitive market: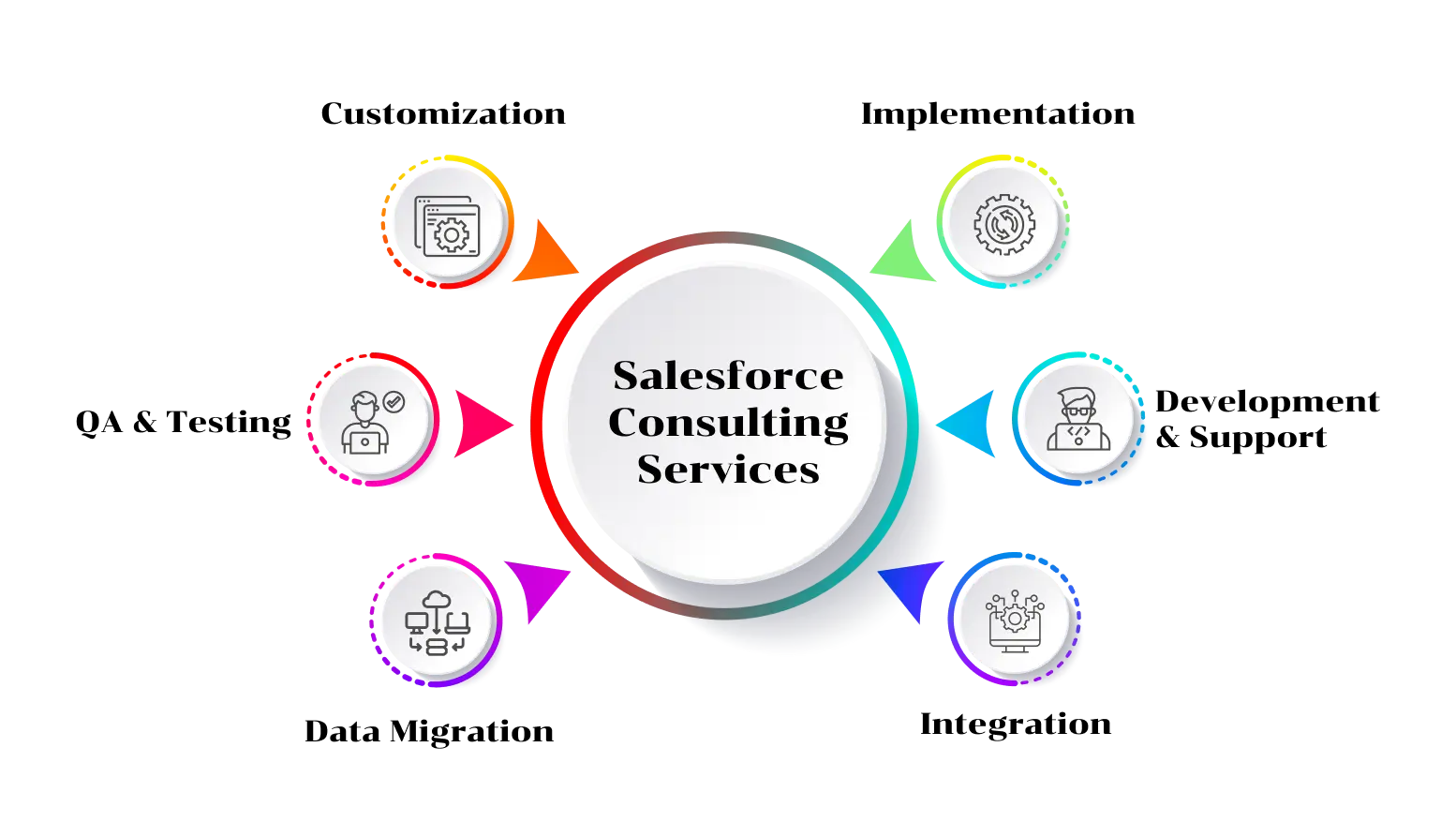 Implementation Services

DATAABSOLUTE'S Salesforce experienced and certified Consultants provide customized Salesforce implementation services.

Development & Support

DATAABSOLUTE provides end-to-end development and support as per the business demand leveraging the power of custom applications with simple Salesforce solutions to fill your demands

Integration

Organizations are increasingly deploying applications built upon a mobile, cloud. This has led to the constant increase in demand for scalable integration architecture across applications, data, and, business processes. DATAABSOLUTE offers a Salesforce® integration solution to make it easy to integrate Salesforce® CRM, to enterprise applications like ERP, Custom applications. Our team helps resolve complex issues existing within the client's Enterprise architecture.

Data Migration

Existing data can be moved on a Salesforce platform for better data management. We offer complete data migration between platforms ensuring integrity and backup security of the data during transfer.

Qa / Testing

Application Testing & Automation adheres to service delivery.

Customization

Some organization requires only specific customized Salesforce services which meet their business vision. DATAABSOLUTE can lay the foundation to leverage these specific tools.
DATAABSOLUTE'S Salesforce consultants are involved from requirement gathering to IT infrastructure strategy to implementation and provide a full range of consultancy services across end-to-end processes.
Salesforce Expertise
SALESFORCE® SALES CLOUD

A revolutionary Salesforce CRM, Sales Cloud can navigate all of your enterprise sales activity from the micro to macro level. It's an ideal package for sales operations comprising lead generation, marketing, providing customer service, and business outline.

SALESFORCE® SERVICE CLOUD

Service Cloud is an elegantly designed Salesforce platform dedicated to customer support and services. Addressing customer inquiries and issue resolution is the prime focus of Service Cloud.

SALESFORCE® PARDOT AND MARKETING CLOUD

Enabling automated marketing solutions and analytics, Marketing Cloud is a highly calibrated Salesforce platform for marketers to manage their market force through various digital communication channels. Customer information tracking and management are optimized through its pioneer AI technology, Salesforce Einstein.

SALESFORCE® CPQ

DATAABSOLUTE CPQ consultants work closely with you to automate your CPQ processes

SALESFORCE® COMMERCE CLOUD

Provisioning cloud-based e-commerce services are commerce cloud's key gameplay. Offering first-rate features and customizable tweaks, this Salesforce platform conveniently handles e-commerce functionality through understanding, engagement, and acuity.

SALESFORCE® EINSTEIN

Salesforce's own radical AI assistant, Einstein combs through your organization's data and shares valuable suggestions and predictions which could help in planning the future course of your company through factual foresight.

SALESFORCE PRODUCTS FOR SPECIFIC NEEDS

Salesforce bids a plethora of tools and services which can be used to build tailor-made software solutions which fulfill any organization's specific requirements. DATAABSOLUTE has successfully assisted businesses from different industries in this regard.
DATAABSOLUTE'S Salesforce experienced and certified Consultants with dedication and positive intent toward Salesforce solution delivery play a key role in making the consulting process a success by implementing technical solutions that solve business requirements. By delivering a quality solution and helping in the ongoing support process the customer benefits as the business grows
Leveraging Salesforce's potential helps business automate tasks, streamline ongoing processes, improves stakeholder productivity, uncover actionable data, integrate thirdparty software effectively, improves sales, and many more